The Importance of Stewarding Our Mountains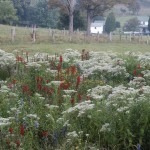 Half of humanity depends directly on mountains as a source of fresh water. Mountains also provide critical resources, recreation opportunities, and spiritual renewal. Our Blue Ridge Mountains represent all of these – the highest headwaters of the Potomac and other watersheds, and a vital source of recreation, resources, and renewal.
But mountains are exceptionally fragile: the rise in elevation creates many different climates, soils, and types of flora and fauna that make for highly diverse and complex ecosystems. And because mountain soils tend to be thin and poorly anchored by vegetation, mountain environments can be both sensitive to disturbances and slow to recover.
Compromised by logging in the 19th and 20th centuries and by development in the 20th and 21st centuries, the Blue Ridge Mountains have been and continue to be at risk. Though some parts of the unique and fragile habitats of the Blue Ridge range have been protected through ordinances and the creation of national and state parks, the threat of wholesale development – in ways that would irrevocably diminish or destroy this defining feature of our landscape — is greater now than ever. The mountains are a splendid natural resource to be valued and a gift to the spirit to be stewarded with great care.