Volunteer Day – Spring 2014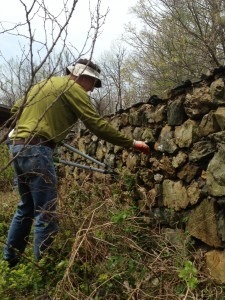 On May 9th, Friends hosted the first of two planned Volunteer Days in 2014 to continue the work of restoring the 168-acre Blue Ridge Regional Park off Mountain Road between Bear's Den and Mt. Weather. The focus of the work on the 9th was the removal of invasive vines and plants from a stone retaining wall which emerged as a beautiful architectural feature for the park.
This most recent Volunteer Day represents the latest in a series of Volunteer Days that were begun in 2008 when two Friends members "discovered" the park which, for lack of dedicated resources, had fallen into considerable disrepair, was virtually inaccessible, and was only rarely used by boy scouts as a camping spot. Friends readily adopted the park as an on-the-ground restoration project. which took shape in the form of two annual volunteer days – one in the spring and one in the late summer/early fall – to remove invasive species and generally assist in the clean up of the park. The implementation effort has been guided by a forest management plan which was completed and approved in 2009 and has relied on a partnership with the Northern Virginia Park Authority and the Virginia Native Plant Society.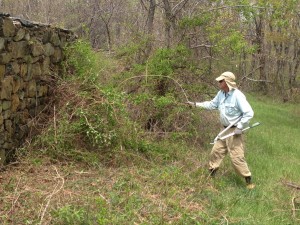 Since the early days of this project Karl Mohle, a park ranger with the Northern Virginia Park Authority, and Robin Williams of the Virginia Native Plant Society, have played key roles in supporting the effort and providing expertise. As a result of the extensive clearing that has been accomplished over the last several years through this initiative, two exciting outcomes (in addition to the satisfaction participating members have experienced) have been realized:
• Blue Ridge Regional Park has been awarded a "Forest Stewardship" designation by the Virginia State Department of Forestry in recognition of the combined efforts of the Friends of the Blue Ridge Mountains, the Virginia Native Plant Society, and the Northern Virginia Park Authority;
• Girl Scout Amelia Gavurin, as parer of her process to qualify for the prestigious Gold Award, identified and labeled 22 specimen trees and prepared a brochure with brief descriptions of each of the trees;
• new resources are being directed to the maintenance of the park by the Northern Virginia Park Authority.
A special 2014 Friends Volunteer Day is scheduled for the morning of Friday, August 8th, to focus on the "mile-a-minute" plant which has overrun campsites at the park and needs to be pulled out before it goes to seed. A subsequent Volunteer Day to clear other species will be scheduled for early fall.   For more details or to sign up to join us in this effort please contact Al Van Huyck at 540-338-3524 or avanhuyck@aol.com.