Volunteer Day, October 24 – Blue Ridge Regional Park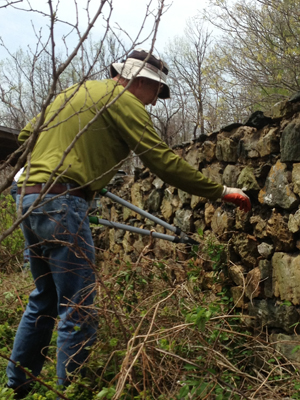 The next Volunteer Day at the Blue Ridge Regional Park is set for Friday, October 24, 2014, from 1:00 PM to 4:00 PM. This event is an opportunity for members and friends to make a real difference in the park by removing invasive plant species and improving the grounds. For the last five years Friends of the Blue Ridge Mountains, working with the Virginia Native Plant Society and the Northern Virginia Regional Park Authority, has held Volunteer Days twice a year at the park in alignment with a forest management plan. As a result of this effort, the park received the Outstanding Forest Steward award from the State Forestry Department.
In addition to the ongoing clean-up effort in the park, Friends sponsored a Girl Scout project that involved labeling 22 trees species and preparing a brochure with brief descriptions of each which is now available at the park. For more information about Volunteer Day contact: Al Van Huyck at 540-338-3524 or email avanhuyck@aol.com.