Friends' Stewardship Volunteer Day: Friday, May 1st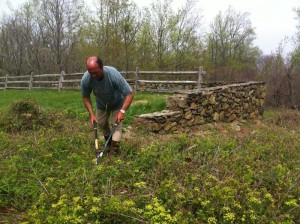 Join Friends of the Blue Ridge Mountains for a Spring clean-up party as we work to remove invasive species from Blue Ridge Regional Park!
We will gather at 1:00 p.m. and work for two hours before enjoying refreshments in the park. Please wear long-sleeved shirts, work gloves, and sturdy shoes. Remember to bring your clippers!
Directions to the park (to map directions, click here): The Blue Ridge Regional Park is located off of Rte 601 (Blue Ridge Mountain Road). Drive west on Route 7 to the top of the mountain, turn left on Mountain Road and proceed about three miles. The entrance (marked) is opposite a wall with pyramid stone posts.
This event is sponsored by Friends of the Blue Ridge Mountains in partnership with the Virginia Native Plant Society and the Northern Virginia Regional Park Authority.