Blue Ridge Conservation Alliance: the Partnership in Motion
A lovely early summer day and the rustic facility at Coolspring, on the Shenandoah River Campus, site of the Cool Spring Battlefield, provided an ideal setting for "BRCA: the Partnership in Motion," an event convened by the Blue Ridge Conservation Alliance (BRCA) on June 20th.  After a considerable hiatus while the BRCA Steering Committee revisited foundational principles and refined governance documents for the organization, the purpose of this event was to re-engage those organizations that had shown early interest in BRCA and to cast a broader net in the interest of getting diverse representation from across the region.  The Blue Ridge Conservation Alliance, launched in 2015,
 is designed to function as a network of partners who collaborate in a variety of ways to protect the natural, scenic, and historic values of the Blue Ridge from Front Royal, VA, to the Potomac River at Harpers Ferry, WV.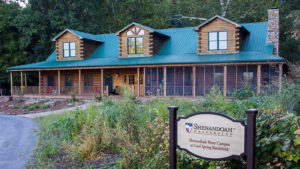 In the interest of helping attendees get to know each other and their respective organizations, the day opened with an exercise whereby each attendee in turn spoke to both a proud moment for their organization and a current challenge using representative images chosen from an assortment provided at the registration table. The remainder of the day consisted of presentations on issues relevant to the Blue Ridge.  Topics and presenters included: the Appalachian Trail Conservancy's Large Landscape Initiative by Dennis Shaffer (ATC); the ATC's Wild East Initiative by Anne Baker (ATC); and the implications of large solar arrays by Dan Holmes (PEC).  Small group conversations between presentations engaged attendees in reacting to the content presented, exploring cross-impacts and identifying opportunities for collaboration.  Tracy Lind and David Lillard, members of the BRCA Program Committee, presented an update on how BRCA is structured and the opportunities BRCA affords its partners. Carole Napolitano, also on the BRCA Program Committee, served as facilitator for a day that was characterized by high engagement, active networking, and very positive energy.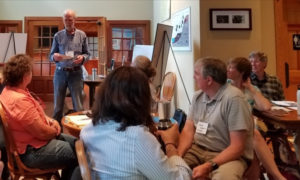 Going forward, BRCA will resume a regular schedule of plenary meetings, once a quarter, with the goal of holding meetings at venues throughout its focus area. Details of the next plenary meeting are forthcoming.