Check out this personal story from our Board member, Carole Napolitano
Love (of our property) in the Time of Corona(virus)
by Carole Napolitano

In recent conversations friends and I have remarked on the good fortune we have, during this time of coronavirus isolation, to live in homes that allow us to shelter-in-place safely and to cultivate garden plots that offer a therapeutic pastime when other typical activities and routines are curtailed.  Add to that, in my husband's and my case, a generous property that not only delights us with spring beauty at every turn, but also provides us with a wonderful space for daily walks strenuous enough to get our hearts going and full enough of nature's surprises to refresh our spirits.
In the earliest stages of staying at home, once the threat of Covid19 became more evident in early March, my husband Stephen and I decided that our strategy for getting exercise and remaining sane would be to seek out new locations, where we could practice social distancing, for daily walks/hikes.  This worked well for a few weeks; we reveled in discovering or re-discovering venues throughout Loudoun County and near Harper's Ferry that then became our go-to's . . . until one after another of them systematically shut down.  At that point, what to do?  Although our custom for years now has been to take early-evening walks on our place on days when both of us can be available at that time of day, our usual route around the property didn't offer the level of exercise we were craving as a result of our current confinement.  The solution was easy; do a double-loop: start down the sloping front lawn and along the mowed trails through the woods, skirt the east side of the pond (will we catch a glimpse of the great blue heron lifting off?), walk the perimeter of the meadows (finding dry spots to plant our feet, as best we can, in the wetland patches), then trek up the steep hill and past our home vineyard to land back at the house for the first loop.  Repeat the route for the second loop . . . or vary the route by taking a different slope down to the meadow, walking up the tractor path, and then reversing the direction of the big hill – first down and then back up.
Do we still find other places to go for walks/hikes?  A few.  But none of them offers, in the way our place does, the opportunity for daily discoveries in the bursting forth of the spring landscape.  Stephen almost invariably begins his day with what he calls his "lollygag walk" – a leisurely saunter to check on all things natural – the wild ramps he transplanted a few days before . . . the struggling redbud, barely visible in a tangle of wild grape, that he freed up so it could flourish . . . the volunteer escarole that is thriving in the not-yet-tilled vegetable garden.  Blessed with a love of nature and a keen eye, Stephen discovers, in these walks, the first blooms of the red trillium, an offering from a friend years ago that has now fully come into its own; the solitary morel mushroom that has sprouted among the Christmas ferns; and a tiny redbud sapling (so young as to be barely recognizable) under the monarch sycamore where our oldest daughter was married.  These become the gifts that Stephen shares with me as we embark on our evening hike, down and up  . . . and down and up some more, taking in the rich fragrance of the irrepressible Russian olives that dot the meadows and the occasional raucous birdsong as we ascend the last incline to arrive back at the house.
Living on an historic property in western Loudoun County, with vistas of the Blue Ridge to our west and the Short Hill to our east, is a gift in any season but never so much as in this spring of confinement, when an abundance of simple pleasures lie just outside our doorway.
"Blessed with a love of nature and a keen eye, Stephen discovers…the solitary morel mushroom that has sprouted among the Christmas ferns…"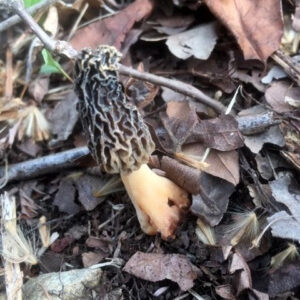 Stephen is also a long-time member of Friends.