Safety Thoughts
Have you found yourself spending more time walking and biking on our beautiful mountain trails, our historic unpaved roads, and our charming natural parks this spring and summer?  Good for you — so have many of your neighbors.  That is the good news.
The bad news is that the increased activity has resulted in more 911 calls as people have found themselves a bit overextended on their adventures.
Battalion Chief Justin Green, Loudoun County Fire and Rescue Department says that the Department has seen more calls for assistance over the past couple of months than in prior years.
While it is not hard to imagine many dramatic reasons one would call 911 for assistance in the forests, mountains and parks in our area – bears, snakes, cliffs, fog, rain, falling trees, lost—the truth is that vast majority of calls for help are for mundane problems that could easily have been avoided with a little forethought and preparation.
People do not bring enough water on hot days. Dehydration can quickly cloud your thinking leading to bad decisions making a bad situation worse. Of course, dehydration can also quickly lead to hypothermia which can be fatal. Interestingly enough, one does not always feel thirsty as one becomes increasingly dehydrated. Drink water on a regular schedule regardless of whether you are thirsty.
According to the web site MomGoesCamping, a general rule for how much water to bring when hiking is: Adults — 2 cups (about 1/2 liter) of water for every 1 hour of hiking; Children — 1-2 cups of water for every hour of hiking.
If you calculate your hike at 5 hours, you need to bring at least 10 cups (2.3 liters) of water per person. This is just general rule. On a hot, humid day everyone is going to need more.  Only plain water provides this level of hydration – sodas, teas, coffees, juices, and other drinks do not count.
People do not wear appropriate shoes. Flip flops and sandals do not protect from the rocks and stones and they do not support your ankles from sudden twists.
People do not adequately recognize that the walk back will be as far and more tiring as the walk out.  And it will take longer.
People do not have adequate respect for steep slopes – either up or down.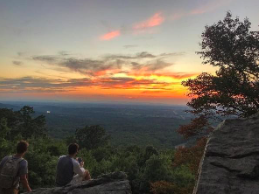 People do not recognize that the sun sets earlier on the east side of the mountain than on the west side. If you are watching a beautiful sunset at the Bears Den overlook; your car at the Route 7 parking lot is already in the dark. Did you bring a flashlight? Your cell phone light is not going to last long enough or be bright enough to walk back to your car.
Call 911
If you are on the mountains, in a park, on a back road, or anywhere you feel you are unsafe – for any reason — the first and most important thing to do is call 911.
In the course of preparing this article I spoke with many professionals in the Sheriff's Office, the Fire and Rescue Department, and the State Police. Every professional stressed the same thing — one should immediately call 911 if they feel unsafe.  You should not wait for the situation to get "bad enough" to request assistance.
Everyone made the same point – they would rather respond to a dozen minor situations or false alarms then have one situation where they were too late.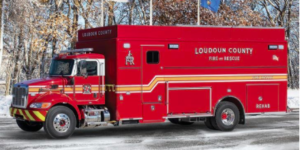 Everyone also stressed that one should never feel embarrassed or awkward in calling for assistance. Everyone makes mistakes. Don't let a minor mistake or lapse of judgement on your part turn into a tragedy because you were reluctant to ask for help or you did not want to "inconvenience" the Sheriff's office or the fire department. The professionals are not in the business of judging you. They are in the business of saving you.
From your point of view, the initial request for assistance is a simple three-digit phone call. However, at the receiving end of your call is a large and complex network of organizations and well-trained professionals and volunteers ready to respond immediately and with a host of specialized equipment as needed.
While the focus of this article is emergency situations in mountains, trails, and parks, you should know that the emergency network includes people, equipment, and training appropriate for all types of urban and suburban emergency situations as well as rural or outdoor settings.
In Virginia, the search and rescue functions are handled by different local departments. The local police/sheriff is responsible for search situations and the fire/rescue department is responsible for the rescue situations. Of course, as a practical matter, there is a considerable overlap and the sheriff and the fire department coordinate closely. Often both will respond to the same incident.
In most situations, the local Sheriff or Fire Department can quickly resolve the incident and often it is a happy resolution.
in Loudoun County, most 911 calls for assistance are handled by the Loudoun County Combined Fire and Rescue System (LC-CFRS). Calls that involve a ground and/or aerial (sUAS) search, such as a lost hiker on the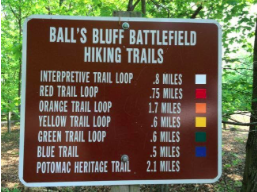 Appalachian Trail, will include members of the Loudoun County Sheriff's Office Search and Rescue Team. The team is trained in land navigation, grid, spiral, and line search. The sUAS (drone) pilots are also trained in line/grid searches and locating heat sources. The LCSO sUAS is enabled to carry a payload of infrared and high-resolution cameras to assist in search and rescue operations, as well as a Project Lifesaver antenna.
Should it be necessary, there are several organizations that the local government can call upon immediately for assistance, particularly for mountain or difficult terrain search and rescues.
For Loudoun, Clarke, Warren, and Fauquier counties the Blue Ridge Mountain Rescue Group (BRMG) based in Charlottesville and the Shenandoah Mountain Rescue Group (SMRG) based in Vienna, Virginia are the two most immediate organizations. Both organizations are members of the Appalachian Search and Rescue Conference.
The Shenandoah Mountain Rescue Group (SMRG) is a professional volunteer wilderness search and rescue organization established to assist people lost or injured in the outdoors. It responds to emergencies anywhere in Virginia, Maryland, Pennsylvania, and West Virginia to search for missing persons or aircraft, and to carry out rescue operations in wilderness areas that require specialized equipment and techniques.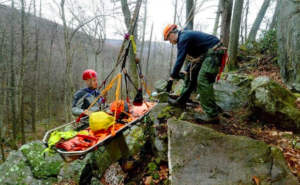 SMRG has over 100 active members with expertise in wilderness medicine, land navigation, search and tracking techniques, land/air evacuation methods, and emergency incident management.
SMRG is brought into a situation by a state, county or local law enforcement agency and works under their command.
In Virginia, the Department of Emergency Management (VDEM) is the initial coordinator of resources for wilderness search emergencies.
The Nightmare Situation
The nightmare situation that search and rescue professionals fear the most is a lost child.  SMRG has produced a 12-minute video to help teach children what to do in case they become lost.
It is for children 4-12 and based in part on the Association of National Park Rangers' "Lost but Found Safe and Sound" video. From the Lost, but Found Website:
"This 12-minute, professionally produced video is designed to show children, ages 4-12, what to do if they become lost in remote areas such as parks or forests. It follows the actions and thinking of 7-year-old Kelly, who sets out on a long-awaited hike on a beautiful day in the woods with her parents and brother. She runs ahead, gets separated from the rest of the family and becomes lost.
Kelly initially panics and runs aimlessly looking for her family. She then realizes she is lost, and she begins to recall the time a park ranger came to her school and explained what to do in this kind of situation. Gradually, as day turns to night, Kelly takes the appropriate actions and spends the night alone in her "nest" in the woods. The next morning, she is found safe and sound by Leni the search dog and his handlers, Brooke Holt and Marion Hardy. Although she is cold, Kelly is just fine because she remembered what to do."
Anne Tubiolo of the National Park Service Interpretive Design Center at Harpers Ferry produced the video with a generous grant from the National Park Foundation. The video is set in Shenandoah National Park, but it is appropriate for any geographic setting.
SMRG is a volunteer organization and the program is presented by volunteers at no cost in northern Virginia and DC-Baltimore corridor.
Contact Ronald Herning at ronherning@gmail.com for more information.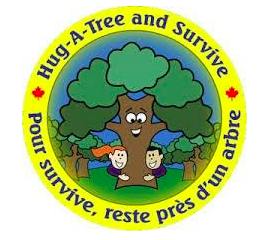 keep the child warm and dry and reduce the danger of hypothermia. A whistle can be heard further away than a child's voice and takes less energy.
My parents will not be angry. Time and again children avoid searchers because they fear that parents will be angry. If the child knows that a happy reunion, filled with love is waiting for them they will be less frightened and less prone to panic and work hard to be found by hugging a tree as they have been taught.
Make yourself big. From a helicopter people are hard to see when they are standing up or in a group of trees or wearing dark, drab clothing. Find your tree to hug near a small clearing if possible. Try to remember to wear bright – red or orange — clothing whenever you are going on a picnic, hike, or other outdoor adventure.
Do not be afraid of animals. If you hear a noise at night yell at it. If it is an animal it will run away. If it is a searcher you will be found. Fear of the dark and fear of lions and tigers and bears are big factors in causing children to panic. They need strong reassurance to stay calm and not run.
You have hundreds of friends looking for you. Children need to know that they have not been abandoned and that even in the dark people are still looking for them.
Of course, these points apply equally to adults that are lost.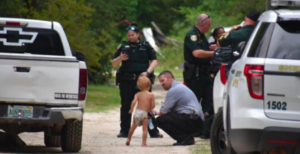 Be safe out there. Fall is coming and it is a great time to be enjoying the mountain paths, the backroads, and the park trails that are so close to us all. We live in a beautiful part of Virginia and we are coming up on the best time to enjoy it. Furthermore, it is easier to observe the social distancing rules outside than inside.
You can have confidence that should the unexpected happen there is a large, well-trained, well-equipped network of professionals and volunteers with experience dealing with your emergency no matter how minor or how traumatic. A little bit of forethought and preparation on your part will assure your safety and the safety of your family and friends.