Happenings Around the Mountain – October 28, 2021
October 29 & 30 – Sky Meadow Tree Planting — Join the Piedmont Environmental Council (PEC), Friends of the Rappahannock, Goose Creek Association, John Marshall Soil & Water Conservation District and We Plant Trees for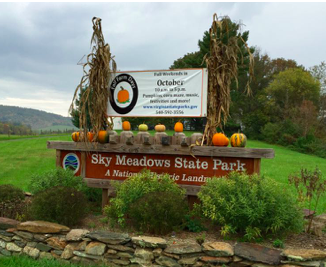 a volunteer tree planting at Sky Meadows State Park on Friday, October 29 – Saturday, October 30.
Friends of the Rappahannock generously donated all of the planting materials and PEC is helping to coordinate volunteers (organizations and individuals) to plant.
Online registration through LetsVolunteer.org is encouraged so we can plan effectively for the day's event.Contact: Maggi Blomstrom, mblomstrom@pecva.org, 540-347-2334 ext 7067.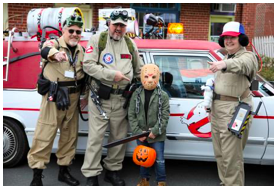 October 30 – Block Party — The 10th annual Purcellville Halloween Block Party will be held Saturday October 30, 2021. This great event is fun for all ages – the party starts at 5 PM and goes till 9 PM. There will be great food, live entertainment, and TONS of candy plus a costume contest with prizes. The party will be on 21ststreet between O and M streets. N. 21st Street will be closed for the event. More info is available at www.purcellvillehalloween.com. This event is sponsored by Discover Purcellville, the merchants of 21st Street, and local businesses.
October 31 – Halloween Parade — Leesburg's 65th annual Halloween Parade. Come out on Sunday, October 31, in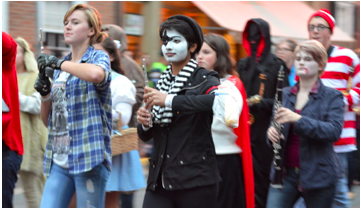 costume if you like, to watch high school bands, decorated floats, classic cars, police, fire, and rescue units, and more. Just line the route anywhere on King Street between Ida Lee Park and Safeway to be entertained and catch treats thrown from the floats. The biggest crowds are north of Market Street and near Safeway; near Loudoun Street is a good place to get a great view and still receive plenty of candy.
Don't forget to take a non-perishable food item to donate to Loudoun Hunger Relief. Every year the parade collects hundreds of pounds of food for the community food bank. Collection is at Ida Lee Field for entrants and along the parade on King St–the LHR van comes at the end of the parade.
Parade begins at Ida Lee Park on North King Street and travels about 1 mile south on King Street, ending at the intersection of Fairfax and South King Streets where it turns left into Virginia Village Shopping Center.
The Leesburg Kiwanis club is organizing and sponsoring the parade again this year as it has every year since 1964.
Through October – Byrne Gallery Exhibit — Through October the Byrne Gallery in Middleburg is presenting "Salute to Autumn," iconic Virginia landscape paintings by Gerald Hennesy. His scenes of the local Virginia countryside are being showcased in a one-man exhibition. His oil on canvas paintings feature historic stone fences, horizon lines with the Blue Ridge as backdrop, winding Shenandoah views, and wildlife on Goose Creek.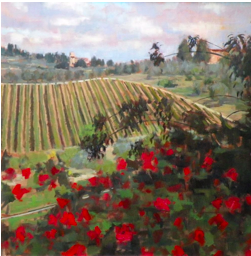 His work has been exhibited widely in commercial and museum galleries including the Baltimore Museum of Art, the Georgia Museum of Art, The Corcoran Museum of Art, the Smithsonian Museum. the U. S. House of Representatives, and the US State Department.
The show runs through October 31st.
In addition to Mr. Hennesy's paintings, the Byrne Gallery is hosting its Autumn Jewelry Event. This special exhibition features gorgeous jewelry and accessories by artists who are all local to the area: Debra Fabian, and Kathryn Stanko and Susie Lipscher of Plum Blossom Kimono. Their collections are one of a kind and keyed to the latest autumn colors and fashion. The jewelry collections will continue being displayed through the holiday season
Contact the Byrne Gallery for more information at 540-687-6986. Gallery hours are 11 a.m. through 5 p.m. Wednesdays through Saturdays and Sunday noon through 5 p.m. Monday and Tuesday are by appointment.
November 4 – Clark Mountain Rural Historic District — The Piedmont Environmental Council (PEC), working with the Fairfield Foundation/DATA Investigations LLC and the Virginia Department of Historic Resources is in the process of listing the Rapidan River – Clark Mountain Rural Historic District on the Virginia Landmarks Register and the National Register of Historic Places.
On Thursday, November 4 at 5:30 pm there will be a presentation and meeting via Zoom about the process. PEC staff from will lead a discussion about what a rural historic district is, the nomination process and the historical significance of the area. There will also be a question-and-answer period. All participants are asked to register ahead of time. Questions about the project, registration, or meeting details should be directed to Kristie Kendall, Historic Preservation Coordinator for The Piedmont Environmental Council, 540-347-2334, x. 7061
A rural historic district is a geographic area with a significant concentration of buildings, structures, roads and waterways, cultural and historic landscapes and natural features, which has been recognized for its historical significance by formal listing on the Virginia Landmarks Register and the National Register of Historic Places.
The Rapidan River – Clark Mountain Rural Historic District is a nearly 40,000-acre historic landscape primarily in Orange County. Research to qualify the area historic designation status will include identifying under-documented historic resources, such as country stores, vernacular buildings, as well as African American and Native American resources.
The designation creates more awareness about a community's unique cultural, historic, and natural assets, which often leads to a greater effort to preserve that history for future generations. It is honorary and does not impose any restrictions on private property owners.
November 5 – Millwood Village Walking Tour — On Friday November 5, 2021, 7:00 PM to 9:00 PM join the Virginia Piedmont Heritage Area and Clarke County Historical Association for a lantern lit walking tour through Millwood, Virginia. An 18th century rural milling town, Millwood retains the historic character of years past. Interpreters will describe first-hand accounts of Millwood's fascinating history spanning three centuries, included war-hardened waggoners, families divided by war, and one of the 20th century's most famous heiresses.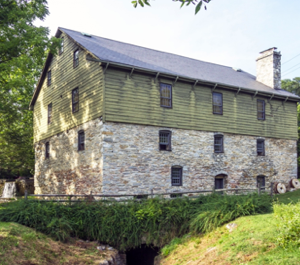 Millwood developed after the American Revolutionary War around the Burwell-Morgan Mill along Spout Run. Col. Nathaniel Burwell (1750-1814), constructed it with General Daniel Morgan (1736-1802) as his business partner.
The village includes a log building originally part of a tannery and later used a tollhouse; a building that was used to store liquor and was later converted into a residence; the frame miller's house, and a brick store.
The tour begins at the Burwell-Morgan Mill at 15 Tannery Lane, Millwood Virginia.
FBRM History — Curious about the history of the Friends of the Blue Ridge Mountains? You might want to look for the current edition of Wander magazine. The magazine contains part #1 of a two-part article about the organization. Part #1 deals with a brief history of how the organization began with a small gathering at the Purcellville Train Station in December 2006. Part #2 will address some of the things the organization has accomplished in the intervening 15 years to "preserve, enhance, and celebrate the Blue Ridge Mountains."
Wander is a new magazine; first published in the fall/winter of 2020. It focuses on celebrating all things wonderful about Western Loudoun County including its beauty, its people, and its heritage. In addition to the article about Friends this edition includes articles and photographs about the historic Villages of Loudoun County and the new Ag School cultivating the next generation of Loudoun's farmers. The magazine is distributed free and can be picked up at many locations around the County ranging from the Wegman's in Leesburg to the country stores in Bluemont and Philomont and many post offices.
ZOC Discusses Commercial Whole House Rental — The Loudoun County Zoning Ordinance Committee (ZOC) met on Wednesday 10/20/2021. The primary focus was to discuss the draft language of the section of the zoning code regarding renting residential property on a short-term basis. The code defines short term rental as a period of less than 30 days at a time, however, generally a short-term rental is for a period of two or three days up to a week.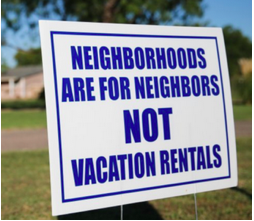 Currently a Loudoun County homeowner is allowed to rent all or a portion of their residence on a short-term basis. The proposed draft language clarifies and tightens language in the current code regarding parking requirements, the Transient Occupancy Tax (TOT), the maximum amount of time a property can be rented over the course of the year and similar issues.
The most controversial aspect of the proposed new language is that it would permit what is called "commercial whole house rentals" which currently is not a permitted use in Loudoun County, although there is strong evidence that there are many in operation in the County.
Commercial whole house rental differs from short term residential rental in that the owner of the commercial whole house rental does not live on the property. The owner is not renting their residence the owner is renting a property that they purchased and operate on a full-time commercial basis.
Several members of ZOC question if it is wise or appropriate to change the County's zoning code to allow this type of rental. Their concerns center around the impact this will have on the availability of affordable workforce housing. The fear is that property owners will rent houses on a short-term basis as opposed to renting them long term to families that need reasonably priced housing in the County. There is also fear that short term whole house rentals in a neighborhood will threaten the residential ambiance and that absent owners of a whole house rental will be less concerned about maintaining the property than homeowners renting their residence.
Friends of the Blue Ridge Mountains opposes allowing commercial whole house rentals in the western portion of the County. Such a use would encourage further development in and near our mountains, is contrary to both the spirit and letter of the new comprehensive plan and would generate more traffic on our rural roads threatening both air quality and water quality not to mention weekend traffic jams.