Happenings Around the Blue Ridge
January 20 – FBRM Annual Meeting
Friends of the Blue Ridge Mountains hosted our annual meeting on Thursday January 20. While circumstances dictated a virtual meeting for the second year in a row, attendance was stron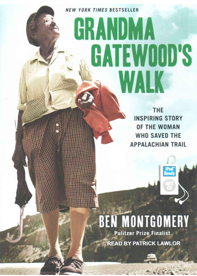 g and we accomplished a great deal. The annual Friend of the Mountain award went to Liam McGranaghan.
Highlights included the 2nd annual State of the Mountain address by Friends President Peter Weeks and a wonderful impersonation, by Anne van Curen, of Grandma Gatewood, the first woman to walk the 2,168-mile Appalachian Trail.  She accomplished this amazing feat solo in 1955 at the age of 67.  She went on to hike the Trail two more times.
February 11 – 2040 
Join The Land Trust of Virginia (LTV) with your children and grandchildren for a Valentine's Day weekend screening of 2040, a visionary story of hope about the climate crisis, exploring the very real possibility that humanity could reverse global warming and, in the process, improve the lives of every living thing.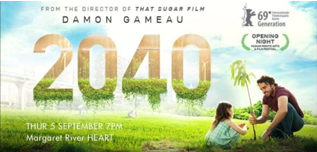 Pre-registration is required. The event is FREE to registrants with a suggested $5 donation when registering. Contact Kerry Roszel at 540/687-8441 or kerry@landtrustva.org
February 16 — 7:00 PM to 8:00 PM — Black Troops in the Union Army and Navy

Roughly 209,000 Black troops fought for the Union Army and Navy in the Civil War. Author Bob O'Connor will discuss his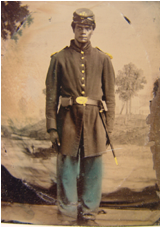 research, which uncovered the records of 2,642 Black troops who were prisoners of war and thousands of others who were casualties of major battles. Cascades Public Library — Meeting Room A.
February 22 and 26 – Two Piedmont Environmental Council Events
In February the Piedmont Environmental Council is hosting two events that may be of great interest to our readers.
Tensions of Farm Succession — February 22 @ 3:00 pm – 4:00 pm
For many farms, transferring the farm to a next generation is the ultimate legacy goal, especially when transferring within the family. But it's not all rainbows and roses. Research around farm succession has identified several "tensions" that can cause stress during the planning process. Those areas of tensions include:  Financial concerns, Control, Change, and Inheritance distribution. If farm families/farm partners can identify their potential tensions and approach the plan with their tensions in mind, they can avoid some of the common "stalls" or pitfalls many farms face. This webinar will discuss these tensions and ideas on how to address them, including the value of a facilitator to help navigate potentially stressful but necessary conversations. This webinar is free. Register by February 18 to attend.
Landowners' Wood & Wildlife Conference — February 26 @ 8:30 am – 4:30 pm


Over 10 million acres of Virginia's woods are privately owned. The Woods & Wildlife Conferences provide information, tools, and personal contacts to help private woodland owners keep their woods, and the wildlife that live in them, healthy and productive.
Registration is required by February 14, 2022. First come, first served. The registration fee is $45/person or $80/couple. Includes lunch and materials. The event will take place at the Daniel Technology Center – Germanna Community College (18121 Technology Drive, Culpeper, VA 22701).
Piedmont Environmental Council Announcement
In 2021, private landowners partnered with various land trusts and conservation agencies to permanently protect 6,474 acres of land in Albemarle, Clarke, Culpeper, Fauquier, Greene, Loudoun, Madison, Orange, and Rappahannock counties. Fifty-five new conservation easements closed last year, bringing the total permanently protected land in The Piedmont Environmental Council's (PEC) nine-county region to close to 433,132 acres.
Looking at the region as a whole, Mike Kane, Director of Land Conservation for PEC said another story that really stands out is the amount of land conservation happening in Loudoun County. For the second consecutive year, Loudoun County led the region's conservation totals, with 3,507 acres. Conservation in Loudoun County accounted for more than half the total acreage conserved in the PEC region in 2021.
March 2022 — Good News or Bad? – The good news is that despite the pandemic – or perhaps because of it – an increasing number of people are visiting and hiking in our Blue Ridge Mountains, particularly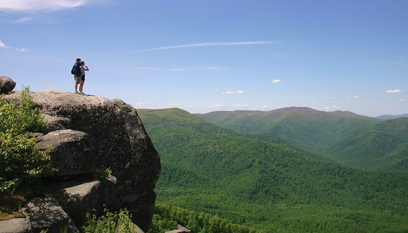 Shenandoah National Park.
The bad news is that because of the increased traffic the National Park Service is introducing a new online permitting system plus one-day hiking passes and fee (reported to be $1) to access Old Rag, one of the Park's most popular hikes. This is in addition to the standard park entrance fee. Tickets are available online only at www.recreation.gov. You can buy yours up to 30 days in advance. There will be 400 tickets released a month out and the remaining 400 will be released five days in advance.
February 21 – Loudoun Wildlife Conservancy Auction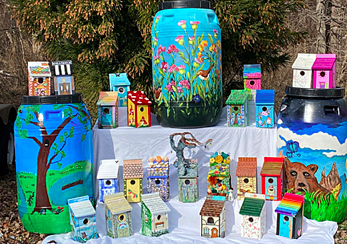 An online auction to benefit Loudoun Wildlife Conservancy begins at noon on February 21 and closes at 10:00 pm on February 28.  Up for auction are beautiful and unique birdhouse art pieces and other artworks by local artists, as well as experiences including an exclusive picnic tour of JK Black Oak Wildlife Sanctuary. Watch the Loudoun Wildlife Conservancy social media for a preview of the 2022 birdhouses and view them at the auction site.  This auction will not disappoint – don't miss out!
Questions: Contact info@loudounwildlife.org.