Wine Drinkers Support Friends of the Blue Ridge Mountains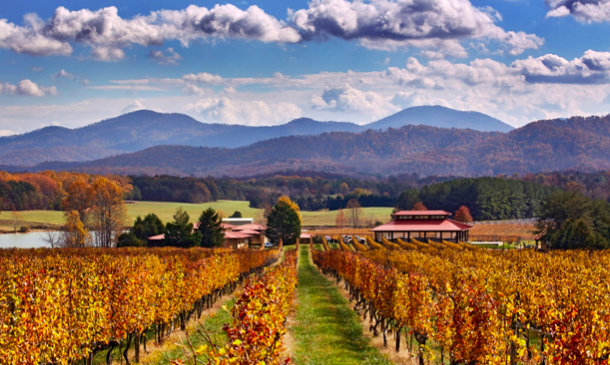 By any measure the wine industry is huge, successful, and growing in Loudoun County. There are approximately 40 wineries and tasting rooms in the County, annual wine production is valued at more than $36 million, and there are in excess of 738 acres devoted to grapes.  Certainly, the robust health of the local wine industry is due in large measure to the quality of the grapes and the skill of the growers and viticulturists.
However, the beautiful vistas in Western Loudoun rightfully claim some credit for the continued success of the industry.   Whether casually admiring clouds lazily drifting by the mountain ridges from a vineyard patio, looking down on the farms and activity from a mountain slope, or enjoying a glass from your backyard deck, the Blue Ridge Mountains add to the moment.
However, if we don't appreciate and protect the Mountains it is possible that those wonderful vistas will look quite different in the coming years and be far less appealing. Friends of the Blue Ridge Mountains is your voice to help keep the Mountains as a wonderful enhancement to the quality of life in this area. If you can donate $5 for every bottle of local wine you have enjoyed in the past year it will go a long way towards helping Friends make sure that the wines you enjoy in the coming years are enjoyed in as beautiful setting as this year.
Friends of the Blue Ridge Mountains relies upon the generous financial support of those who love and depend upon the Mountains. Once a year we ask you to donate to help Friends through the community Give Choose Campaign. This year Give Choose starts on Tuesday March 15th and culminates with a 24-hour virtual marathon on Tuesday March 29th.
Please go to www.givechoose.org/fbrm and invest in helping us to continue to be your voice to preserve, enhance and celebrate the Blue Ridge Mountains.