Friend of the Mountain Award
The Friend of the Mountain Award was established in 2006 to recognize efforts on the part of individuals or entities to support the well-being of the Blue Ridge.
Awardees to date include: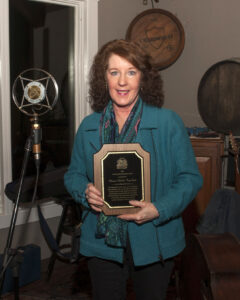 2022: Maura Walsh-Copeland, in recognition of her many years of service and activism in the conservation community, and her work to rally citizen involvement and facilitate opportunities for the voices of local residents and mountain stakeholders to be heard throughout Loudoun's zoning ordinance re-write process.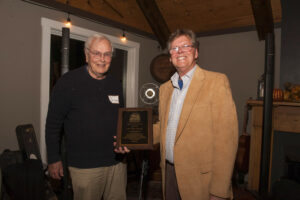 2022: Al Van 
Huyck
received our first Lifetime Achievement Award 
to honorhis abiding love and appreciation of the special beauty, resources, and heritage 
of our region . . . and his unrelenting efforts, over many decades, to preserve the 
unique character of Loudoun County for future generations.
2021: Liam McGranaghan in recognition of your efforts, over many years, to celebrate and steward the flora and fauna on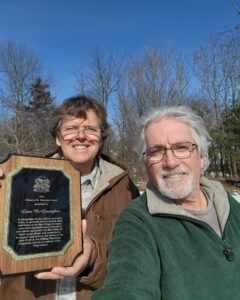 the Blue Ridge; to inspire your environmental science students to care about and protect the Blue Ridge for future generations; and, in particular, to support and facilitate the success of the Jane Pratt & Jed Shilling Blue Ridge Education Award at Loudoun Valley High School.
2020: Lella Smith, founding member of Friends.
2019:  The "SWAT Team" of the Loudoun County Preservation and Conservation Coalition (LCPCC) received the Friend of the Mountain award at Friends annual meeting on November 24, 2019 at Bluemont Vineyard, Bluemont, Virginia.
The award reflected efforts beginning in February, 2018, during the Loudoun County 2040 Comprehensive Plan Stakeholder's Review process, which would determine much of the fate of western Loudoun and the portion of the Blue Ridge located there.  A group within the LCPCC was created to immediately review each chapter of the plan and publish a "Citizen's Response"  on the LCPCC website and sent directly to Staff and Stakeholders, BOS,  and newspapers, in preparation for the May, 2018, public input sessions. Many responses of "count me in" immediately followed, resulting in the establishment of the ten member New Comprehensive Plan Review Committee of the LCPCC, known as the SWAT Team.  Representing the LCPCC's 50 organizations, the SWAT Team membership consisted of expertise ranging from Urban Planning, Finance, Land use and Appraisals, human resources, environmental studies, management consulting, and much more.  At the June, 2019 Plan final adoption several Board members acknowledged the vital information and assistance provided by the Coalition, with the result that the Coalition has been asked to be a reviewer for the next phase: the 2021 Zoning Ordinance Overhaul.  Al Van Huyck, who initially proposed the creation of the SWAT team, accepted the Friend of the Mountain Award on behalf of the group, a certificate which reads:  "In recognition of your collaborative work and significant contributions as a member of the Loudoun County Preservation and Conservation Coalition New Comprehensive Plan Review Committee (a.k.a. "SWAT" Team) to engage and influence the Loudoun County 2040 Comprehensive Plan for the sake of safeguarding emblems of our heritage and conserving the natural features of our landscape"
With representatives of many conservation groups in attendance, FBRM President, Peter Weeks, summarized the work accomplished during the past year, stressing the need to continue and expand efforts in the  Friends' Conservation Corridor (Loudoun, Fauquier, Clarke, Rappahannock, and Jefferson Counties).  He also paid tribute to former Board Member, Jed Shilling, who recently passed away.  James Remuzzi, Chair of the Stewardship Committee and developer of the land management plan for the Sleeter Lake Park Project in Round Hill, VA, discussed Friends' continuing partnership with the town to develop the park with Phase 2 to begin in 2020.  Blue Ridge Supervisor Tony Buffington, with the help of a large map, discussed his efforts to secure properties that will allow expanding the trail system in western Loudoun County, including a trail linking Sleeter Lake Park in Round Hill with Franklin Park in Purcellville.  Buffington, who was instrumental in passing conservation easement legislation in Loudoun, also updated the audience regarding the work he is doing to expand eligibility for that program.  Original art work by award-winning local artist Jill Perla was raffled to assist in fund raising for Sleeter Park.  The eclectic gathering of individuals all interested and working to protect the Blue Ridge Mountains along Friends'Conservation Corridor enjoyed delicious refreshments, donated by Joanie Wolford of Savoir Fare, and Bluemont Vineyard's excellent wine, while the Bluemont Balladeers provided delightful musical accompaniment.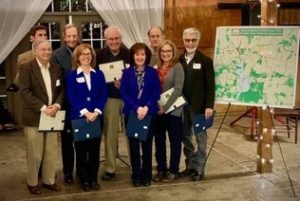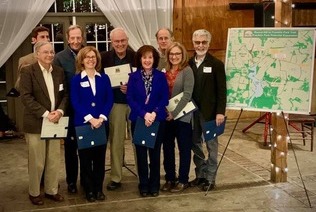 Photo Caption:
From left to right front row:
Owen Snyder (Unison Preservation Society), Gem Bingol (PEC), Maura Walsh-Copeland (LCPCC), Cheri Conca (LWC), Norman Myers (FBRM)
Back row from left to right:
Evan McCarthy (PEC), Jim Hanna (LCPCC), Al Van Huyck (LCPCC), Jeff Freedman (Mosby Heritage)
2018: Individuals and organizations working to have lands in and around the Blue Ridge mountains in Friends' Conservation Corridor (Loudoun, Fauquier, Clarke, Rappahannock, and Jefferson Counties) placed in Conservation Easement was the 2018 Friend of the Mountain award recipient.  Representatives of the three aspects of Conservation Easement were honored – Legislators who worked to establish enabling laws, Land trusts, and individuals who have donated or purchased properties placed in Conservation Easement.
Legislative honorees:  Tony Buffington (Blue Ridge Supervisor, Loudoun County) and Randy Minchew (former Virginia Delegate for the 10

th

District);

Land Trusts Representatives: Chris Dematatis (Chair, Land Trust of Virginia), Henry Stribling (Executive Director, Old Dominion Land Conservancy), Chris Miller (President, Piedmont Environmental Council), and George L. Ohrstrom, II (Board Member, Clarke County Conservation Board), and;

Numerous individuals who chose to place their properties in Conservation Easement, demonstrating that the singular efforts of individuals can have a large cumulative effect in preserving and protecting the Blue Ridge. 
The Annual Member Celebration and Fundraiser was also be the kick-off event for Friends of Sleeter Lake Park.  As project coordinator, Friends'  plan is to identify existing mature trees along a walking path through the native woods, plant appropriately selected native trees along new walking paths, and enhance the infrastructure already started by the Town of Round Hill. The tree planting project is part of a larger land plan being developed by FBRM that will complement a native pollinator meadow recently planted by Loudoun Wildlife Conservancy.  The collaborative improvements to Sleeter Lake Park will provide a teaching tool and demonstration project for adults and children, and include a viewing platform, outdoor classroom, pollinator gardens, picnic areas and benches, meadow, fishing pads along the lake, and, importantly, measures for erosion control. This is all in addition to simply being a lovely public recreation and gathering place by Sleeter Lake.
2017: W. Joseph (Joe) Coleman, Jr. was recognized for his significant conservation initiatives and many years of volunteer efforts to protect wildlife and their habitats.  He has also been an advocate for the environment, promoting citizen science, securing conservation easements and engaging individuals of all ages in discovering the wonder of the natural world – all of which contribute to preserving, enhancing and celebrating our Blue Ridge and its foothills.
2016: Jean Baderschneider and Kim Rapp learned of the plan to open a large beer drinking and entertainment venue in the middle of a residential neighborhood on an unpaved rural road in Bluemont.  It was seemingly a done-deal, as the brewery had the legal authority to locate there and the proper permits under current zoning.  Jean and Kim reached out to neighbors, and like-minded citizens and organizations.  Through their efforts, a team of people was assembled and moved into action.  Jean and Kim organized community meetings with lawmakers and encouraged contact with elected officials, while underwriting the legal costs of representation.  Jean and Kim continue their commitment to preserving what makes Western Loudoun special by advocating for noise abatement measures and changes to the Comprehensive Plan, which will influence the area's future.
2016: Sam Kroiz, a mild mannered goat herder, entrepreneur with George's Mill Dairy, and musician  became a fired-up activist for conservation when AT&T proposed constructing a monstrous building on top of the Short Hill. Sam stirred up opposition to their plan by setting up meetings with the staff  of the Loudoun County planning department, Lovettsville area citizens who were also outraged by this proposal, and by public appearances before the BOS. He even got Chair Randall to visit the goat farm so she could see for herself how visible and out of place the building would be, even miles away. She commented, having heard many opponents of the plan at these board meetings thank the Supervisors for their attention to the proposal,  just prior to the vote, that "indeed, the Board thanks the citizens of the County for their time and attention, and the fact that they showed how much they care about the county."
2015:  Potomac Appalachian Trail Club (PATC).  The plaque, accepted by Dick Hostely who is PATC President, reads: "In recognition of their longstanding work through volunteer efforts, education, and advocacy to protect the Appalachian Trail and adjacent lands along the Mid-Atlantic section of the Blue Ridge Mountains, ever mindful of the need to conserve the natural landscape with respect for historical and cultural features".
2014: Alfred P. Van Huyck, founding member of the Friends of the Blue Ridge Mountains, and former president of the Friends Board of Directors, in recognition of his diverse and tireless efforts to support preservation in our region, including on behalf of the Blue Ridge Mountains and related ecosystems, through service on numerous committees as well as founding and leadership roles with the Loudoun Preservation and Conservation coalition and Friends of the Blue Ridge Mountains.
2013: Dr. Jane Pratt, architect of the Blue Ridge Conservation Corridor, a concept on which much of our work is based, for her efforts on behalf of the Blue Ridge as a founding member of Friends of the Blue Ridge Mountains following on a long career of work with mountains and mountain people.  Jane died in August, but her spirit lives on through her efforts over many years to steward mountains and mountain people.
2012: Virginia Native Plant Society for work on the mountains to remove invasive species. Awarded at the Annual Meeting on November 11, 2012.
2011: Blue Ridge Center for Environmental Stewardship for their placement of a conservation easement on 900 acres of mountain land, their preservation of historic sites, and their sponsorship of a wide range of activities enhancing and celebrating the mountains.
2010: The Jefferson County Planning Commission for initiating a watershed management plan on the Blue Ridge Mountains.
2009: The Town of Purcellville for placing a conservation easement on their 1300 acre reservoir on the mountains.