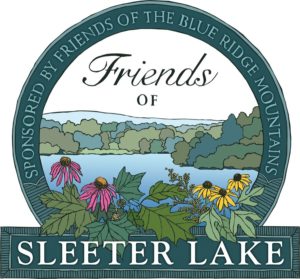 As a part of advancing our mission of preserving, enhancing, and celebrating the Blue Ridge. Friends of the Blue Ridge Mountains is committed to engaging in on-the-ground stewardship. Having wound down our efforts over the past many years at Blue Ridge Regional Park, Friends is pleased to launch the Sleeter Lake Park Project. You can help by donating a tree today!
Sleeter Lake Park, a new recreational area in Round Hill (recently designated an Appalachian Trail Community), offers an opportunity for Friends to collaborate with several other partners including the Town of Round Hill, Loudoun County Master Gardeners, and Loudoun Wildlife Conservancy, to enhance an important part of the Blue Ridge Mountains ecosystem bordering the foothills.  As a first step, Friends will provide the Town of Round Hill with a professional master plan that incorporates the Town's existing Sleeter Lake Park concept plan and corresponding infrastructure.  The master plan will include tree-lined walking paths that connect existing and future amenities and will incorporate the proposed trail between Sleeter Lake Park and Franklin Park that is currently being developed by the Loudoun County Department of Parks and Recreation.  Loudoun Wildlife will oversee the design of a native pollinator plant meadow.  And Master Gardeners has identified mature trees on the property and is in the process of recommending additional trees to plant with an emphasis on species indigenous to the immediate area.  Serving as a public recreation and gathering place, Sleeter Lake Park will feature a viewing platform, an outdoor classroom, pollinator gardens, picnic areas and benches, and fishing pads along the lake.  In addition to working with partner organizations in planning and design, Friends will encourage community participation during the tree planting phase from such groups as area scout troops and earth science students.
Help us realize our vision for Sleeter Lake Park by donating below at whatever level is right for you.